About six months ago my washer stopped draining during the spin cycle and started making a really nasty sounding noise. Larch wanted to go buy a cheap Craigslist replacement. I was NOT ok with that. We rented to own our top of the line super capacity Whirlpool washer 5 years ago. This machine should be able to give me 20 years. Being perpetually broke, we put off fixing it and used my parents house and the laundromat to keep the kids in clean clothes. We got our tax return this week and the first thing on my list was to fix the washer.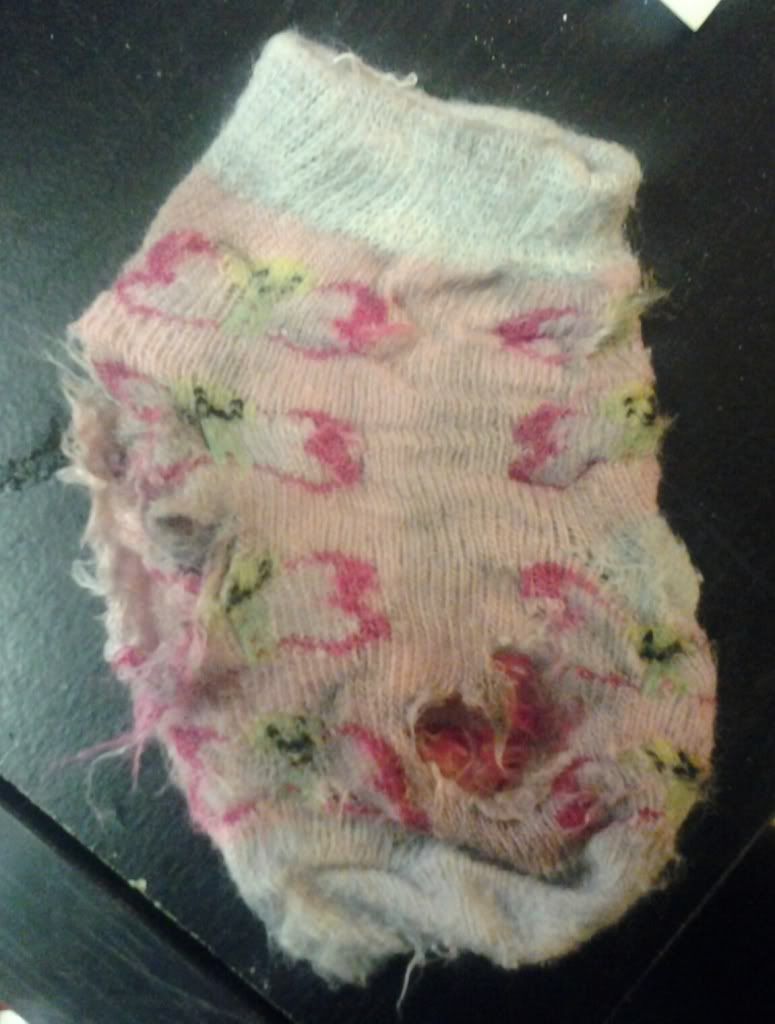 This is what happens when
the washing machine tries
to eat your socks
I called the big name chain first. They wanted $80 just to come out and look at it. That didn't include parts and labor. No thank you. At a loss for who to call next I went to Google and Yelp. Grave's Appliance here in CDA had nothing be excellent reviews. So I called them. For $125 dollars my washer now washes clothes quietly again. Turns out there was a baby sock stuck in the pump. Don't ask me how it got there, but that was the problem.
That's not the cool part. The cool part is, because they were busy, the daughter came to fix my machine. That's right, a WOMAN came to fix my washer. And she was
pretty
. And nice. And went to my small town high school.
Let me tell you about Kootenai Jr./Sr. High. Until 2005 the junior high and high school were in the same building. The average graduating class is around 20 kids. So, when I was in 7th grade, my washer repair lady was a senior in high school. This means, that while we didn't hang out, we probably passed each other in the halls and the cafeteria everyday. And we knew the same people. I was actually pretty familiar acquaintances with some of the people in her class. Being a small town with only 2 churches, if you go the same church you know each other by name and not just face no matter the age difference.
After she finished pulling the sock out of my washer pump and replacing a leaky part (leaky thanks to the sock), I pulled out the year book for my 7th grade year. Not only did we graduate from the same small town high school, she was PROM QUEEN. Yep, the 199X Prom Queen of Koontenai High School fixed my washing machine.
NOTE:
This is not a judgmental "ha ha you were prom queen and all it got you was a job working for your dad fixing household appliances." In a town as small as Harrison, ID it's not the snobby queen bee who only sees the hotties in her immediate circle of friends who gets voted prom queen. It's young women who are genuinely nice to EVERYONE. This is a post about "ha ha this is a small world and that's kind of quirky funny that the prom queen from my small podunk town was the gal who fixed my washer holy cow we are all connected."
SECOND NOTE:
If you were a prom queen in a not so small school, I am by no means implying that you were a hot popular snobby b$tch. I am sure you were a very pretty, very nice person who treated everyone extremely well and would have been my friend even though I didn't even fit in with the nerds or the geeks.